One of the best return on investments you can make for your property is to do some high pressure cleaning.
Don't let the name fool you, at SWC we are more than a window cleaning company. We offer the highest level of pressure cleaning in Sydney and have years of experience across many types of buildings.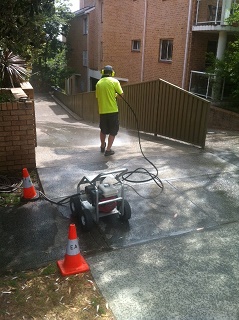 What Kind of Surfaces can be Water Blasted?
Walls, Walkway, Patio & Pavers, Concrete, Roof, Gutters Driveways Fences, Pool Areas, Wooden Decking, Bricks.
Can I Use a Gerni Myself of Do I need a Technician?
If you choose to purchase your own machine, it is important to know what you are doing. Hiring a skilled technician will alleviate much of the mystery. Simply plugging it in and blasting away may work but it could be damaging your surfaces. Or it may take a very long time. Sealing may be required, or chemicals added. Certain regions may be difficult to access. There are a host of other factors to consider.
You might see a small Karcher Pressure Cleaner at Bunnings Warehouse and say: "Can't I do it myself?" Well yes and no. For a minor job yes you could use a small cheap Pressure Cleaner from Karcher or Gerni. But to do it properly you want a machine with sufficient Capacity. This is measured in PSI or BAR. Another unit of measurement is the flow rate of water. The flow rate is measured in L/min or litres per minute. The pump, motor capacity is measure in horse-power, HP or kilowatts, KW. You will also want a skilled Professional with the know how to operate the machine. Additionally, some surfaces such as porous stonework will need sealing afterwards.
Benefits for Home Renovation or Sale
After a pressure clean, often people decide that their walls do not need repainting after all. This can save tens of thousands of dollars. Your roof can also be pressure cleaned to remove, moss, lichen, bird poo, hardened dirt, and many types of staining. Once cleaned, your roof may look excellent and not need any more work. The same holds for other surfaces.
Call Us at SWC for Professional Pressure Cleaning
The results speak for themselves. And one major plus is that the results last. It will often take years for the surfaces to get really dirty again. Clean it once and it will likely last a year, oftentimes longer.
There is nothing better for your home than a good exterior house wash. For Pressure Cleaning Sydney homes at reasonable rates, call us. Once your driveway, walls, roof and other surfaces have been pressure washed, they will look spic and span.
Call us at SWC Sydney Window Cleaning. We can help you achieve the best results. It will save you time and hassle. Minimise risk of any damage and obtain the best result. We are only too happy to help. We service the Inner West, North Shore and Eastern Suburbs of Sydney.