A Helpful Guide to Window Cleaning Prices in Sydney

SWC Sydney Window Cleaning provides free quotes for service in the Eastern Suburbs, Inner West and Lower North Shore of Sydney.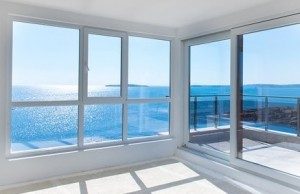 Can I just do Window Cleaning myself?
This is a question many individuals ask. The answer depends on your specific circumstances.
After seeing a professional window cleaner blitzing through a shop front's window, a passerby may think, "surely it is not that hard?"
Don't take it for granted the risks that come with window cleaning. Improper technique can lead to RSI. Lackadaisical safety standards can lead to a fall. Not to mention that is is easy to scratch a window. Replacing the glass is very expensive compared to the cost of getting them cleaned by a professional.
When it comes to commercial windows, they should always be cleaned by a professional. It will make a big difference in your presentation. The image you project may attract or repel customers. Regular cleaners often do not have the expertise to do a thorough job.
Unless you only have two or three small panes in your house that you want cleaned, you should leave it to a professional. Still, for basic windows that are easily accessible please see our free guide on how to clean windows.
How To Get An Accurate Quote
When it comes to window cleaning prices, there is a lot of variation. Of course, you want the cheapest prices and may wish to shop around. However, this can take some time, so before calling it is good to know what to ask so that you can find the best and cheapest solution. Most services offer free quotes. Take note though, many companies will charge extra for things that you may not have considered.
Use the following list to ensure that you know exactly what you need so that you can get the most accurate quote and therefore, save money.
Factors that we consider when pricing a window clean
The number of panes? – These are counted individually. We consider each pane a separate window.
Size of each pane? – Smaller panes can sometimes be just as time-consuming.
Type of glass? – Some are difficult to clean types such as Viridian Comfort Plus Glass.
One or both sides? – Or just the inside or outside?
Dirtiness? – How dirty are your windows? Filthy, moderate, fingerprints, offensive?
Type of Dirtiness? – Is it just dust, dirt, grease, bird poo. Or harder stains?
Frequency? – Do you want a one-off clean? Or a regularly scheduled cleaning service? How often? Once a week, month, year?
Timescale? – When are the windows available to be cleaned? Does it have to be after hours? Night work, weekend work or emergency call outs? Do they need to be done today?
Last Clean? – Time elapsed since last window clean. The windows will be much dirtier
Height? – How high are the windows? More height requires more skill. Do we need to use a water fed pole system?
Window Coverings? – Do you have fly-screens, safety screens, grills, curtains, blinds- anything that may interfere with the cleaning process? Do these objects need to move to access the windows? Will you do this, or do you want them to do this?
Flyscreens? – Extra work but highly recommended, as dirt from the fly screens often is transferred to the windows.
Window Surrounds? – The inclusion of flyscreens, tracks, sills, frames or other surfaces.
Direct sunlight? – This makes it harder as it shows up every blemish and surface defects.
Other Services? – Gutter cleaning, carpet cleaning, general cleaning and pressure cleaning. Discounts are usually offered for combining services.
Post-Construction? – These are a whole different animal. Exotic building residues require special techniques and chemicals in order to be removed.
Other? – Factors related to the difficulty of the job.
How do we give you a price or free quote?
If you are happy to provide a residential address, then we can try to look it up using Google Maps. We may even be able to give you a rough estimate before we head out to your place.
Even better, if your property is on realestate.com.au then there may be many pics that we can have a look at for an even closer price range. This has really modernised the process of window cleaning quotes.
Using both these online guides and your description, we will give you a price over the phone before we come out.
Or onsite we will provide an exact price then you can decide whether you would like to go ahead or not.
Cheap Window Cleaning in Sydney
At SWC Sydney Window Cleaning, we are very experienced in quoting jobs. Our prices are usually at market rate, or cheaper. The difference is that we do not drop our standards. We always do a proper job to the highest standard possible for your glass.
For pricing, we factor in the above information in this article. As a guide please see below: (All prices are GST inclusive)
Apartments are usually around $150-$180 for all glass to be fully cleaned inside AND outside.
Houses have more variation in price but ground level homes start at $180. Most ground level residences will be between $180-$250 range if they are small to medium in size. Larger ground level homes $250-$330 typically.
Large Homes that are two stories or with high access glass would be $330+.
For commercial window cleaning, high-rise window cleaning to five stories, Builders Cleans and Strata Window Cleaning, we would normally arrange for a quotation onsite.