Quality You Can Trust
Our highly skilled tradesmen and technicians use a combination of the latest water fed pole technology and intelligent techniques to ensure that you get the highest quality window cleaning service possible. We guarantee that your windows will be sparkling clean and free from smudges, dust, dirt and grime.
A Professional Service You Can Count On
We take pride in our work and guarantee customer satisfaction. Our technicians are friendly, honest and trustworthy – with a commitment to integrity and professionalism that you can count on. We have many repeated clients who come back time after time for our excellent service!
Easy & Cost Effective
Our window cleaning services are easy to book – so no more waiting around for days or weeks for someone to turn up! Plus, they're cost effective too – we offer discounts for regular customers as well as special deals on multiple bookings.
Regular Commercial Window Cleaning is the best way to create positive customer perception. If your glass is dirty, it will be the first thing they notice. Better to have sparkling, shiny windows and clean well-presented premises that will attract patrons.
Examples Our Previous Commercial Work
Westfield Shopping Centre
Reddam House School
UNSW
Sydney Aquatic Centre
Parramatta Leagues Club
Raddison Hotels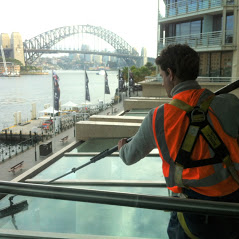 Commercial Glass Cleaning in Sydney
If you have a large commercial building that needs cleaning there are several ways to do this. The ground level glass is typically done by a window cleaner using mop and squeegee. If there is a need for high access solutions please see our page on high rise window cleaning to see your options. SWC Sydney Window Cleaning offers solutions up to five-stories in height.
Retail Shopfronts & Shopping Centers
Commercial shop and storefront windows are always cleaned on a regular basis. The constant flow of shoppers and pedestrian traffic leaves hand-prints and grease marks on the glass. If it is outside then there may be a grimy build-up from the elements or traffic. We recommend weekly or fortnightly cleans to keep the glass looking pristine.
Restaurants & Food Outlets
Professionally cleaned windows speak volumes about the kind of business that you represent. It is the restaurant glass that a patron will first notice. Customers will often judge a food establishment by the way it is presented. If the glass is dirty and greasy then this will detract. Pristine, sparkling windows will give the impression of cleanliness and good hygiene standards behind the scenes. At a number of restaurants across Sydney we have been doing the glass cleaning for many years. We are keen to add you to our regular service.
Offices & Warehouses
Most businesses elect to have a full window clean every few months. Our extension pole system handles most low-level offices to five stories at a significant discount as compared to rope-access window cleaning. After hours can be arranged if you do not wish to have workers disturbed.
Showrooms & Car Yards
Many car yards are located close to main roads. Thus there is a buildup of grime on the glass from road pollution. Car showrooms we recommend a fortnightly or monthly window clean.
Universities & Schools & Hospitals
Many schools and universities have a regular commercial cleaners that look after the ground level glass. For more higher or more difficult sections building managers have contacted us. Typically we clean the windows using a water fed pole. Previously we have used this system to successfully clean the glass up to five stories in height.
Prices for Commercial Window Cleaning
The more often that you arrange to get your glass cleaned, the cheaper we can do it. Please see our page on window cleaning prices for more information.
Enlisting a Commercial Window Cleaning Service will enable you to long-term reduce costs of glass maintenance. It will improve customer perception of your business. These will result in greater profitability. If you would like to hire a commercial window cleaner then please contact us. We would be happy to provide a quotation or give you some advice as to your best options.