Why enlist a Commercial Window Cleaning Service?
Professionalism. No Business can afford to give an unprofessional image to their customers. Don't be left behind the pack. Give an image worthy of your customers business. Regular Commercial Window Cleaning and window maintenance provides cheaper building maintenance costs in the long run as it protects the glass from degradation and mineral build up. Commercial Glass that is not cleaned and maintained can lead to permanent and irreversible damage to the windows.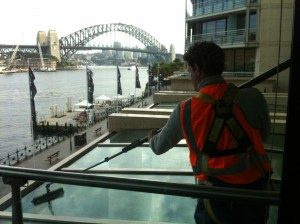 Sydney Window Cleaning has followed the model of some of the world's best commercial window cleaning companies to emerge as a market leader in the quality of service offered to clients.
Examples of our Commercial Window Cleaning Sydney Service:
Commercial & Office Buildings in the Sydney CBD
Hotels and guest houses
Retail shopfronts and shopping centers
Refurbished commercial buildings and shop fitouts
Showrooms and car yards
Restaurants and food outlets
Hospitals, Retirement homes
Universities, Schools and other educational facilities
Would you eat at a restaurant where the front facing doors and windows are covered in dirt, grease and smothered by handprints? Unlikely, unless you were desperately hungry, then you might risk it! Given a choice though you would eat at the establishment that presents itself professionally and seems well kept. This makes sense because if they neglect the glass that passersby and patrons can see, then you can imagine what the standard of cleanliness is like out the back where people can't see! Similarly even when the risk of food poisoning is not an issue, as is the case for other types of businesses, professionally cleaned windows speak volumes about the kind of business that you represent.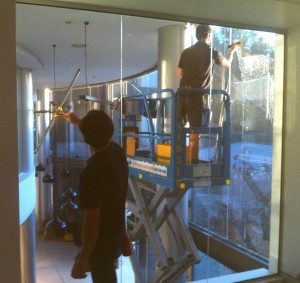 Having sparkling, commercially cleaned windows shows that you are a business that pays attention to detail, is professional, organised, transparent – having nothing to hide, values quality and is not neglectful of the smaller matters. Of course, it also creates a more pleasant environment contributing the well-being and satisfaction of your workers and customers.
Enlisting a Commercial Window Cleaning Service will enable you as the proprietor to long term reduce costs and increase positive customer perception of your business resulting in greater profitability. Commercial Glass Cleaning is the smart choice.
Commercial Window Cleaning is a must for any serious business that aims to project the right image to their customers.
Glass Scratch Repair
Our services include glass scratch removal and hard water stain removal. Many commercial premises face harsh treatment from a huge volume of customers or workers coming through. This increases wear on the building and increases the chance of damage to glass. It can be a real cost saver to have your glass scratches removed than to replace the panel. We offer this as an additional service. Please contact for a free quotation.
Service Areas
For a Professional, Commercial Window Cleaning service in Sydney, call Sydney Window Cleaning on 0413 164 375.
(If you commercial property is newly constructed, renovated or a fitout, please see our page on Post-Construction Window Cleaning. Or for high-access window cleaning, see our information on High-Rise Window Cleaning.)
Call Today: 0413 164 375