SWC Sydney Window Cleaning – renowned window cleaners based in Sydney. We have been providing a professional residential and commercial window cleaning service since 2012. Our experienced window cleaners lead the industry in excellent customer service and reliability. We are a small but busy team. We invite you to give us a call.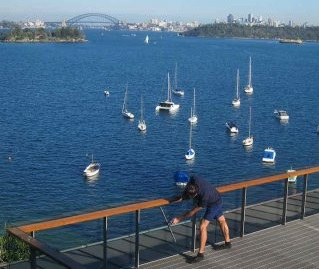 5 Reasons To Try Our Window Cleaning Service
We Care: Our window cleaners will arrive on time, and will communicate with you clearly to ensure that nothing is lost in translation. We are only a small company so we are happy to adapt to you. As a family owned and operated business, we will show respect to both you and your property. We guarantee that you will be more than satisfied with the finished service.
Attention to Detail: We will not leave any drips, streaks or scratches. We use proven methods that not only make sure that your windows are gleaming today but ensure that they will stay clean longer. We will clean every bird deposit, we won't knock over your pot plant, and we will pat your dog. Basically we show respect to your property as we would our own.
The Best Equipment: If your windows are high up or hard to reach this is not a problem, using our special water fed extension poles we can clean safely from the ground. We use de-ioinised water in our poles which cleans better and leaves the glass glimmering.
Competitive Prices: We do minimal advertising because we already have a steady stream of enquiries, thus our overheads are reduced. For regular scheduled services, we can offer further discounts. We can try and price match too. Above standard cleaning with below standard prices.
Professional: We have cleaned many thousands of windows so will be able to get yours looking just right no matter how bad they may appear. Our small team is very friendly and can make it a pleasant experience for you.
How Do We Clean Your Windows?
Pure Water Window Cleaning
The water from your tap runs through our DI or de-ionisation tank which removes all the minerals and impurities from your water. What comes out is pure water. This is an excellent cleaning agent and it dries clear – free of any white spots. It is also used to rinse down the glass after scrubbing is finished. This leaves a streak-free finish. Used with an extension pole system this is the modern method for cleaning higher glass to four-stories or so.
Traditional Window Cleaning
Done using hand tools. Such as applicator scrubbing pads and a rubber squeegee. It is the standard method of window cleaning for your internal glass and easy to access external windows. Our window cleaner agitates the dusty or dirty surface with a mixture of water and detergent on the applicator pad. Next, a rubber squeegee removes any excess water. This leaves your windows clean and gleaming. Simple!
Our Window Cleaning Service Areas
Sydney Eastern Suburbs, Inner West & Lower North Shore
How Do We Provide a Quotation?
Its simple really. We can use Google Maps and realestate.com.au. These are great tools that save time and help us to get you a price straight away. If there is not enough information then you can sms a few pictures across that may help. Normally this is enough to at least give a rough price estimate. Of course we can always drop in for a price on site if need be.
Our team is well trusted, friendly and provides a great result. We have over 10 years experience in all types of glass cleaning. If you seek DIY guidance, we can steer you in the right direction too. We invite you to give us a call and try our service.