CALL NOW: 0413 164 375
Sydney Window Cleaning provide a High-Rise Window Cleaning Sydney service in the CBD and greater Sydney region. High-Access window cleaning requires professionals that understand the risks involved in working at heights and have the right experience for the job at hand. High Rise Commercial Window Cleaning can be challenging, so careful planning is required.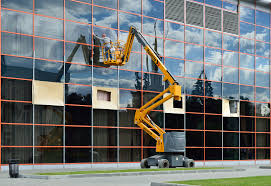 High-Rise Window Cleaning Methods
There are 4 main methods used to clean high-rise windows. These are:
Pure Water Fed Pole Technology
Elevated Scissor Lift & Cherry Pickers
Abseiling Window Cleaning & Rope Access Systems
BMU Building Maintenance Unit Platforms
Sydney Window Cleaning uses the first three methods to clean high-rise windows in the Sydney CBD and suburban Areas. The height of building elevations usually dictate the height access method used. Please see descriptions below, hopefully it answers some of your questions. For more information or a quote please call.
Water Fed Pole Technology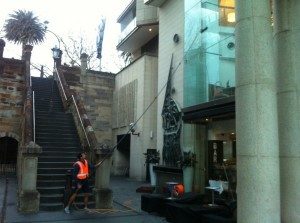 High-Rise Window Cleaning can be done most efficiently using de-ionised filtered water fed pole systems. This is our choice system for window cleaning buildings of up to 4 stories in height. Most professional window cleaners will eventually adopt this method of cleaning exterior windows as it offers many distinct advantages. Many window cleaners using water fed poles for high-rise window cleaning.
Also known as a tucker pole system, water-fed pole systems are being used by window cleaning companies both large and small across the Greater Sydney region. Why?
How does it work?
A water-fed pole system uses pure water to clean windows which negates the need to use expensive and environmentally hazardous cleaning solutions. Normal tap water is converted into pure water by a mobile de-ionisation and water filtration unit. This pure water is then applied with high pressure by the pole unit. The pure water cleans all of the debris and environmental deposits from the windows. Because the water is pure, when it is rinsed from the window there is no streaking or water spots left. This process saves a lot of time that window cleaners normally use for drying windows with a squeegee using traditional cleaning techniques.
Advantages                                         
High windows can be accessed easily.
Safer for the environment.
Safer for staff.
Less safety equipment and PPE needed.
Some individuals are worried that using water-fed poles would require more strenuous effort than traditional techniques. Surprisingly hoisting the poles is not as hard as many imagine. The secret is that the poles are manufactured from lightweight carbon fibre, which allows minimum weight without sacrificing strength. Because of using the latest manufacturing techniques the pole can be easily manoeuvred, so that windows that previously could not be cleaned, can be easily accessed. This also saves staff the danger of working at height. Many businesses spend a lot of money on safe roof access and hoisting equipment. By saving on occupational health and safety equipment the cost of a water-fed pole system is often the most cost-effective solution.
High-Rise Window Cleaners often run into problems when they have to clean windows above garden beds or car parking. Access by hoist is often difficult, and if anchor points are not installed on the roof then it really gets tricky. By using a water fed pole system window cleaners can easily access windows above sensitive ground such as above cars and garden beds.
What are the disadvantages?
We are not sponsored by a high-rise cleaning equipment or water-fed pole company and so are happy to discuss the weaknesses of the systems as well. The major issue with tucker pole systems is mobility. The system requires a water filtration and de-ionising unit, as well as the hoses and water-fed-pole itself. Therefore for the average window cleaner that does store-front window cleaning in the Sydney CBD, there is not point in having putting forth a large financial outlay for a water-fed pole system. At the very least a van is needed to house and transport the system. Obviously a water-fed system is ideal for established window cleaning companies that service multi level commercial and strata properties. For window cleaners that do shop-fronts and single story residential properties, a traditional solution applicator and squeegee would still be the most effective method.
Water-fed pole systems are not the ideal cleaning method for every window cleaner, but they do offer a lot of advantages for strata and Commercial Window Cleaners. They are easy to use, and new staff can be trained quickly. If a business has the capital available they can be a valuable investment, as they allow easy access to hard to reach windows, and can negate the cost of hiring or purchasing expensive height access equipment as mentioned earlier.
Elevated Lift Platform Access for High-Rise Window Cleaning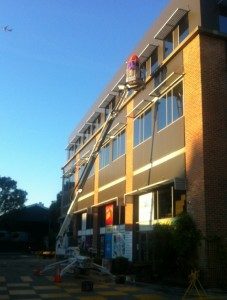 For Medium Rise buildings where there are overhanging sections or hands on work is required, we utilise cherry pickers and scissor lift elevated work platforms. This gives prime access to specific sections for longer periods of time, particularly where finesse work is required such as post construction window cleaning. There are three main lifts, these are the Boom Lift, Scissor Lift and Spider Platform lift. Our high rise window cleaners do not engage in BMU Building Maintenance Unit platform window cleaning but use rope access methods when boom lift platforms have reached the limit of their extension. We do not carry lift systems on hand but have a preferred supplier when the need arises.
Abseiling Rope Access Window Cleaning – NOT CURRENTLY OFFERING
We offer Abseiling Window Cleaning services for buildings  up to 40 Stories high in Sydney. The Abseiling Window Cleaners are often the Crème de la crème of Window Cleaners for the simple fact that not only must they be able to demonstrate a high level of window cleaning skill, but that the practice must be executed whilst being suspended by ropes and negotiating safe passage down the side of a building. For this reason, we enlist only the best abseiling window cleaners in Sydney for our team. Safety requirements necessitate that there always be 2 or more abseilers onsite and working in tandem when engaging in high-rise window cleaning. Height access technology is constantly evolving and we attempt to stay abreast of the latest innovations and refine our skills so that we can always provide a high level end result. Our Window Cleaners are trained in line with the Irata Height Access Training Systems and are fully insured.
Call Sydney Window Cleaning on 0413 164 375 to discuss and arrange a quote, we are happy to meet with your building manager to provide further assistance.
BMU Building Maintenance Unit Platform Window Cleaning
Our high-rise window cleaners do not engage in Building Maintenance Unit (BMU) window cleaning. Traditionally, it is a safe and effective method for regular glass maintenance of very high buildings. We have decided not to enter this field and are able to solve most high-access window cleaning problems using the three preceding methods: Abseiling, Lift Platforms and Water-fed Pole systems. BMU system require regular checks and extensive maintenance and are only operable in ideal weather conditions. Like with Rope Access window cleaning, BMU cannot be carried out in windy conditions.
We also offer a glass scratch repair service in addition to our window cleaning service. Hard water stain removal and glass maintenance.
For high-rise window cleaning we service Sydney's Inner West, the Upper and Lower North Shore Areas, Bondi and the Eastern Suburbs in addition to the Inner City and CBD areas. Due to time constraints we are not always available for Abseiling High Access work but can usually accomodate low to mid rise jobs at short notice. We also service a number of Strata Titled Properties in Sydney. For more information and quotes please call: 0413164375
CALL NOW: 0413 164 375