Are you seeking a window cleaner in the Sydney Inner West? We can help you!
The Inner West of Sydney is rapidly expanding. Construction and renovations are booming. This has been reflected in property prices over the last few years. If you want to find a window cleaner in the Inner West area then you need to know what to look for!
Retail-Commercial Window Cleaning
Never has it been so important for your business to look the part. Interior designers are sprouting the scene from inside stores, creating industrial landscapes in cafes and retail stores alike. Bustling retailers are spewing forth their goods onto the streets encouraging passerby to gawk at their goods. So what is the common connection?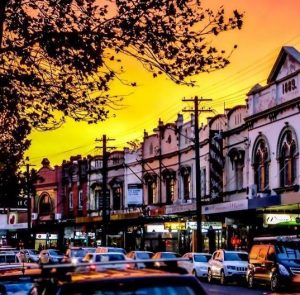 Sparkling windows. Window cleaners frequent the busy Inner West streets as much as the parking meeting ladies. Wiping off the grime the blows up from the Industrial parks in Botany, and scraping off the dried cocktails from Saturday night. Window cleaners are keeping this place as fresh.
If you would like a regular service or more information please see our page on commercial shopfront window cleaning. 
Residential Window Cleaning Sydney Inner West
The Inner West of Sydney has much natural foliage. The splendid, huge, old trees are probably older than yours and my age combined! Taking into account all this leafage requires a different window cleaning approach.
We normally use a bristled applicator pad or special white pads which provides extra scrubbing power. Close in strength to your typical kitchen scourer but the difference being that the pads we use are rate scratch proof. Never use the green kitchen scourer. These pad along with some muscle will remove stubborn marks such as bird droppings, sap, and hardened dirt. Your windows will be well protected and look sensational! Please see our page on Domestic Window Cleaning for more information.
Where do we Service:
Annandale, Balmain, Drummoyne, Dulwich Hill, Erskinville, Five Dock, Glebe,  Leichhardt, Marrickville, Newtown, Pyrmont, Rozelle
Types of Buildings in the Inner West
One reason for the increase in popularity of the area is its relative proximity to the Sydney CBD. Running adjacent to Parramatta Road, the Inner West houses the oldest Uni in Australia, The University of Sydney. Nearby King St, Newtown and Enmore Road are known for their eccentric shops and cafes and alternate lifestyle. There are the Glebe and Rozelle Markets every weekend. The buildings in the area are mostly terrace houses or Victorian Architecture.
Older terrace houses and Victorian style homes have different window cleaning requirements. Typically there is less glass than in modern style homes. But many homes in the inner west have a large amount of glass that is affected by foliage.
Builders Clean in the Inner West
With all the construction going on, it is important to find a window cleaning service that will protect your glass. Post-build cleans are much more difficult and require real care to protect your glass. Comfort Plus glass is not easy to clean. Various builders residues will need special techniques. We have the know-how you can trust.
Give us a Call!
There are a lot of different window cleaners that frequent these suburbs, but for the most reliable, trustworthy service call the team at Sydney Window Cleaning.
We service all of the suburbs in the Inner West from Restaurants in Marrickville, to Strata apartments in Dulwich Hill up to cafes in Newtown and commercial offices in Alexandria. We are the premier Inner West Window Cleaning team.