Are you seeking a window cleaner in the Sydney Inner West? We can help you!
The Inner West of Sydney is rapidly expanding. Construction and renovations are booming. This has been reflected in property prices over the last few years. If you want to find a window cleaner in the Inner West area then you need to know what to look for.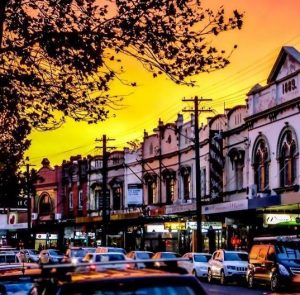 Residential Window Cleaning Sydney Inner West
The Inner West of Sydney has much natural foliage. Taking into account all this leafage requires a different window cleaning approach. We normally use a bristled applicator pad or special white pads which provides extra scrubbing power. Close in strength to your typical kitchen scourer but the difference being that the pads we use are rate scratch proof. These pad along with some muscle will remove stubborn marks such as bird droppings, sap, and hardened dirt. Your windows will be well protected and look sensational. Please see our page on Domestic Window Cleaning for more information.
Types of Buildings in the Inner West
One reason for the increase in popularity of the area is its relative proximity to the Sydney CBD. Running adjacent to Parramatta Road, the Inner West houses the oldest Uni in Australia, The University of Sydney. Nearby King St, Newtown and Enmore Road are known for their eccentric shops and cafes and alternate lifestyle. There are the Glebe and Rozelle Markets every weekend. The buildings in the area are mostly terrace houses or Victorian Architecture.
Older terrace houses and Victorian style homes have different window cleaning requirements. Typically there is less glass than in modern style homes. But many homes in the inner west have a large amount of glass that is affected by foliage.
Builders Clean in the Inner West
With all the construction going on, it is important to find a window cleaning service that will protect your glass. Post-build cleans are much more difficult and require real care to protect your glass. Comfort Plus glass is not easy to clean. Various builders residues will need special techniques. We have the know-how you can trust.
Abbotsford, Alexandria, Annandale, Ashbury, Ashfield, Balmain, Balmain East, Beaconsfield, Belfield, Birchgrove, Breakfast Point, Burwood, Burwood Heights, Cabarita, Camperdown, Canada Bay, Chiswick, Clemton Park, Concord, Croydon, Croydon Park, Drummoyne, Dulwich Hill, Earlwood, Enfield, Enfield South, Enmore, Erskineville, Eveleigh, Five Dock, Forest Lodge, Glebe, Haberfield, Homebush, Homebush, Hurlstone Park, Leichhardt, Lewisham, Lilyfield, Marrickville, Marrickville, Mortlake, Newington, Newtown, North Strathfield, Petersham, Petersham, Rhodes, Rodd Point, Rozelle, Russell Lea, St Peters, Stanmore, Strathfield, Summer Hill, Sydenham, Tempe, The University of Sydney, Ultimo, Undercliffe, Wareemba, Wentworth Point, Westgate
Give us a Call!
There are a lot of different window cleaners that frequent these suburbs, but for the most reliable, trustworthy service call the team at Sydney Window Cleaning.We service all of the suburbs in the Inner West We are the premier Inner West Window Cleaning team.