Do you live on the North Shore of Sydney and are looking for a window cleaning service? We can help you!
You may find it difficult finding a decent window cleaner regardless of where you live. Are you after a one-man band or professional outfit? Do you need a regular service? Is your home, shop or office ground level or elevated? These are questions to ask.
Who to select for Window Cleaning Sydney North Shore homes and businesses?
If you live on the Sydney Harbour shoreline then you are privy to some of the most spectacular views. Looking out of a freshly cleaned window you can recline on your sofa and enjoy the sight of the Sydney Harbour Bridge and Opera House. If your windows are dirty and clouded from the seaside air then you will miss out!
Our team at Sydney Window Cleaning has been servicing the Sydney Lower North Shore for over six years. We are experienced in all types of window cleaning.
Reasons to use Sydney Window Cleaning
Experienced. We have been doing window cleaning locally for many years and are familiar with the kinds of houses and conditions found on the North Shore of Sydney.
High access. We can window clean up to five stories from ground level using our deionised water-fed pole system. An extension pole system is much more cost-effective as compared to abseiling and much safer. It will clean your glass frames too as a bonus.
Fully insured. No reason for concern as we take great care with your glass and as we work around your property.
Trustworthy.  Friendly, conscientious and can be trusted to work around your place.
Flexible. We can do extra services such as skylight cleaning or even high-pressure cleaning. If you have something extra that needs doing then we may be able to help you!
Skill. There are many window cleaners in Sydney. Like any trade or service, there are varying levels of expertise. You will find that there many who will struggle to do difficult windows. Our team really are professionals that will get the job done.
Are we the best North Shore Window Cleaners?
Well, to be honest, that is difficult to say! But we believe in our skills and the service that we provide. We invite you to use our service. Please peruse our website to see the breadth of knowledge that we have. Our Window Cleaners are true professionals!
We service:
Neutral Bay, Mosman, Kirribilli, MacMahon's Point, Cremorne, Lavender Bay, Milsons Point, Cammeray, North Sydney, Greenwich,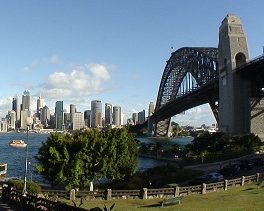 Window Cleaning in Mosman & Kirribilli
Neutral Bay, Mosman, Kirribilli and a majority of the Lower North Shore has many apartments buildings. Strata window cleaning can be arranged by your body-corporate or you may be able to arrange it yourself. Most apartment glass cleaning costs can be covered by strata, but it is best to ask. For information on window cleaning prices, please see our guide to window cleaning quotes or give us a call.
Commercial Window Cleaning in North Sydney
The Central Business District CBD of Sydney expands over to North Shore and onto North Sydney. Many shop fronts and offices require a regular window cleaning service to keep up appearances. If you are a business owner you will want a reliable, quality service. See our page on commercial window cleaning in Sydney for more information on the benefits of keeping your glass clean.
Upper North Shore Service
The Upper North Shore is rich in natural foliage which presents a further challenge to keeping your property looking great. Your windows will not be subject to the sea air but may get various deposits from the overhanging trees. This is fairly straightforward to clean. We used bristled scrubbing pad which will get off even the hardest markings whilst not damaging your glass.
You can give us a Call!
If you really want to get your home looking tip top you then you definitely need to get your windows cleaned. A clear pane of glass is a joy to look through especially when you have a nice view!