Are your windows covered in salt-spray? Are the seals around your windows slowly degrading, and rust forming on the metallic objects? Then welcome to Bondi Beach.
CALL Today: 0413 164 375
Bondi's Best Window Cleaners! – For over 6 years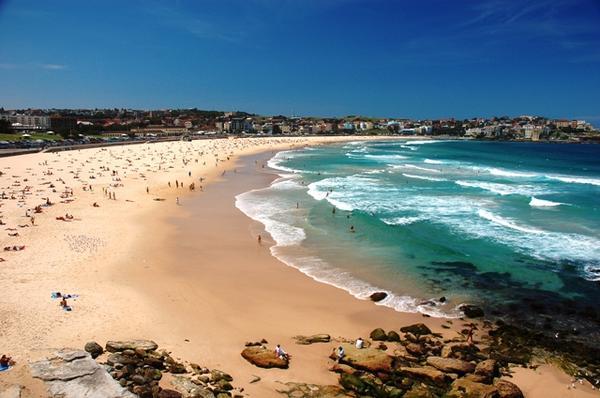 Yes it is one of the worlds most iconic beaches, but here is a fact that is less known. Bondi is a criminal, merciless assaulter of windows.
The salt spray whipped up by the afternoon sea breezes has caused many a car in the Eastern Suburbs to rust up, and windows have not fared well either. The grimy buildup on Bondi windows is a mix of sea spray and pollution, and more than likely it is killing your view. Have you tried cleaning it off, and it does not seem to budge. Well Sydney Window Cleaning have the answer. We have proven methods for cleaning windows in Bondi, that not make them shine, but protects them in the future. We only use our local window cleaners, so we know the local conditions and how to deal with them. If you are getting your apartment cleaned for an inspection, or your Bondi Beach mansion ready for a function, Sydney Window Cleaning will get your windows shinning brighter than ever.
Not only does window cleaning get your window looking clean, but it also prevents them form degrading. Unsightly degradation can start at a molecular level in windows that have a salt-spray buildup on them. By having your windows regularly cleaned you will save costly window repair in the future, and we will also clean the seals and frames, so that rust does not develop. Sydney-Window-Cleaning offer the highest standard Bondi window cleaning service. Call today on 0413 164 375.
Eastern Suburbs
The region runs from near the city at Surry Hills and stretches East from the tip of New South Head at Watson's Bay down to Maroubra, and Little Bay up through Randwick and Centennial Parklands. The population is around 250 000 inhabitants. The Eastern Suburbs has many iconic buildings and facilities such as the University of New South Wales at Kensington, the Sydney Cricket Ground SGC or Allianz Stadium at Moore Park. Being a rich commercial precinct there is an abundance of flourishing businesses. The area is in high demand for houses and property and so many residents are paying a high price to live in the East. Domestic Cleaning Services are always needed no matter where you live and so would like to have their domestic cleaning done for them to a high standard.
We offer an Eastern Suburbs Window Cleaning Service not only to Bondi Beach but also to surrounding suburbs including, Rose Bay, Bondi Junction, North Bondi, Tamarama, Bronte, Waverly, Queens Park, Centennial Park, Clovelly and Coogee. We live locally so are usually able to help you at short notice. Please call today us for the best window cleaning service in the Eastern Suburbs of Sydney!
CALL Today: 0413 164 375