CALL NOW: 0413 164 375
Sydney Window Cleaning are renowned window cleaners that provide a professional residential and commercial window cleaning service in Sydney. Our experienced window cleaners lead the industry in excellent customer service and reliability. No job too big or small. We really are the one size fits all window cleaning company. We Service the Sydney North Shore, Inner West and Eastern Suburbs areas.

7 Reasons To Use Sydney Window Cleaning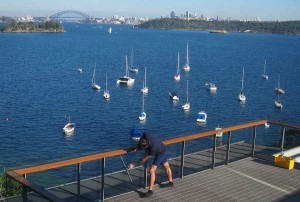 We Care: Our staff will arrive on time, and will communicate with you clearly to ensure that nothing is lost in translation. We are only a small company so we are happy to adapt to you. As a family owned and operated company, we will show respect to both you and your property, and can guarantee that you will be more than satisfied with the finished service.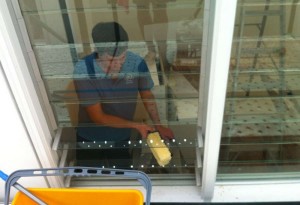 Attention To Detail: We will not leave any drips, streaks or scratches. We will clean every bird deposit, we won't knock over your pot plant, and we will pat your dog. Basically we will show the same respect to your property that we do to ours. Window Cleaning with precision and care.
We Are Locals: We live in the CBD and Eastern Suburbs, so we know the local conditions. We will not get stuck in the traffic. And will be there as soon as the rain stops, and we are always just a phone call away. We are local window cleaners in your community.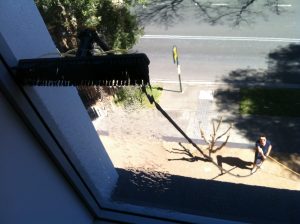 The Best Equipment: If your windows are high up or hard to reach this is not a problem. Using our carbon-fibre extension poles, we have been safely cleaning windows up to five stories from ground level. We use pure water technology which cleans the glass well and leaves it glimmering. Whether residential or low-rise commercial, this is the easiest, safest and most effective way to clean your high glass.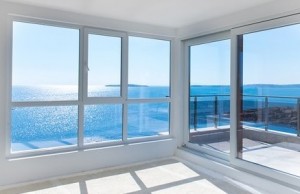 The Best Standard Of Cleaning: We use proven methods that not only make sure that your windows are gleaming today, but ensure that they will stay clean longer. We use plastic tipped squeegees so there are no scratches. We proudly use environmentally friendly cleaning solution, that not only does not harm the environment, but does not degrade your seals and screens like some of the solutions that our competitors use.
Competitive Prices: We offer rates that our competitors can not because we do not have the big overheads that our competitors do. We have the same standard of insurance, and use the best tools in the trade, but we do not make you pay for our advertising and company cars. Above standard cleaning with below standard prices.
Additional Services: High Pressure Cleaning, Gutter Cleaning, Cobweb removal, Solar Panel Cleaning. We can usually provide a price guide over the phone for your convenience using Google Maps. We service the Sydney North Shore, Inner West and Eastern Suburbs. Operating Hours are Monday to Saturday 7am to 7pm. Call for free quotation or to make a booking!

Call Michael at Sydney Window Cleaning
Phone: 0413 164 375